When Hannah Etisomba saw an online request for models to donate their time and skills to the Kentucky Crusade for Deaf Children fashion show, she wanted to help any way she could.
The cause was "close to her heart" because her 1-year-old son, Aiden, was born without a fully developed ear canal.
Etisomba contacted Madison Greene, the fundraiser's founder who suffered from undetected hearing loss as a child, and told her she would be of any assistance.
Under Greene's suggestion, Etisomba agreed to let Aiden be a model in the show.
"We couldn't be a sponsor, so we found another way to serve," Etisomba explained.
Greene began the foundation last year after she was named Miss Madison County, saying she has always had a desire to help children suffering from hearing loss as she did, she said.
Medical bills place a huge strain on families, she said, explaining that just one hearing aid can cost more than $2,000.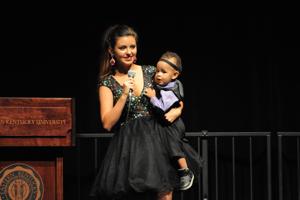 photo: cocktail dresses
Although Aiden's $4,500 bone-anchored hearing aid (BAHA) costs were mostly covered by a grant she received, the Etisomba family still had to cover some of the bill.
The values reflected by the Kentucky Crusade for Deaf Children are often overlooked, Etisomba said.
During the show's intermission, Greene's aunt, Lanita Wright, sang a gospel song. Although Wright was born with a bone condition that resulted in hearing, eyesight and other health problems, she is thankful for the technology of hearing aids that allow her to sing.
"I had to ask for help to know when to start singing. I am thankful God has gifted us with the technology of hearing aids today. We are blessed," Wright said.
Funds raised by the fashion show, attended by approximately 200 people, will be donated to the Lexington Hearing and Speech Center. The center happens to be the same that outfitted Aiden with his BAHA, Etisomba noted.
Models of the show wore casual and formal fashions from Adorabelles, Pink Elephant, Classy and Sassy, Posh Tots and JCPenney.
see more: formal dresses